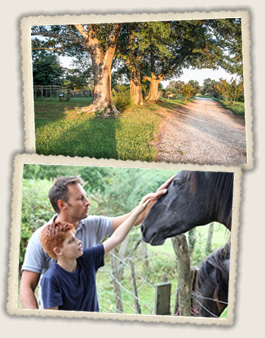 Luxury Included Features
The Saddlehorn Custom Design Concept gives you the flexibility to design your home the way you want it with luxury floor plans as a guide. We believe that the ideal home combines elegant traditional styling with the best of modern design. With this as the guiding principle, we have carefully selected an array of included features to help you get the most from your new home. These features are listed below.
Energy efficient insulation and house wrap.
Two Zone Heat Pumps – separate systems for each floor on a two story home.
Vinyl insulated low-e glass windows and insulated metal entry doors.
Oversize nine foot ceiling on first floor, eight foot ceiling on second floor.
Cathedral or tray ceiling in the master bedrooms.
Self cleaning range, dishwasher, refrigerator, garbage disposal, and micro-hood.
Luxury shaker style cabinets.
Smooth finish on ceiling throughout.
Granite kitchen countertops with farmhouse sink.
Cultured marble vanity sink tops.
Smoke and carbon monoxide detectors.
Quick recovery hot water heater.
Built on crawl space with basement options on suitable lots.
Decorator lighting fixtures.
Brushed nickel plumbing fixtures and hardware.
Rich enduring wood colonial railing.
Traditional interior doors.
Fireplace with traditional wood mantel.
Prewired for telephone and cable TV.
Site finished oak hardwood floors in foyer, dining, kitchen, and breakfast area.
Ceramic tile bathroom and laundry floors.
Plush wall to wall carpets in bedrooms, bonus rooms, and family rooms.
Easy to clean fiberglass tubs and showers.
Ceiling parlor fans in family room, bonus rooms, and all bedrooms.
All weather treated wood deck.
Seeded yard on all ground disturbed during construction.
Low maintenance exterior cement board with farmhouse trim.
Traditional baseboard with chair rail and ceiling cove molding in entry, dining room, family rooms, kitchen, and breakfast area.
---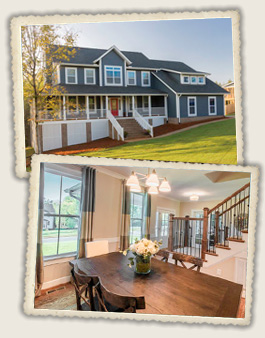 Selection of Your Home at Saddlehorn
We've developed the Saddlehorn Custom Design Concept to give you the flexibility to design your own home while having luxury modern floor plans as a guide. This allows you to build your home exactly the way you want it, with the features you choose to make the home perfect for you. It also gives you the benefit of our time tested construction process, luxury standard features, and experience with our unique homes, saving you the expense of starting from scratch. Here's how it works:
Select Your Floor Plan. Choose from one of our offered floor plans. The designs you see on our website, in our brochure, and at our model home display the luxury features that included in your home. However, you're not limited to these features. If you choose, you can customize your new home as much as you like.
Reserve Your Lot. You can reserve a lot for 30 days at no obligation to you by providing a refundable deposit of $1,000.00 and signing a lot reservation agreement. This will hold the lot while we work out the details of the design and financing. At this point, we will price any customized options, providing you an itemized list of the options with prices.
Begin Construction. Once you have the final pricing and a conditional loan commitment (or other documentation for cash purchasers), you are ready to have us begin construction of your new home. Construction begins when you sign a purchase agreement and provide a total deposit of 5% of the purchase price (your lot deposit will be applied to the 5%). Your home takes between 4 and 5 months to build, although we will work with you as much as possible to schedule a closing that meets your needs.
Building a new home at Saddlehorn is a fun and rewarding experience. Our staff will be there to help you through the whole process, and your work is rewarded with a quality new home built just for you. For your new luxury home, there is no better time to begin than right now.