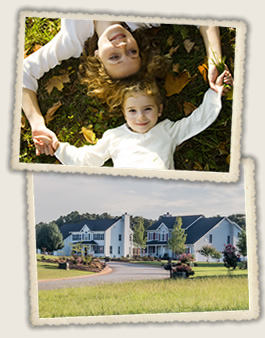 For many years, the land that is now Saddlehorn was rural farmland. This land and the surrounding areas created a patchwork of fields and rural homesteads separated by thickets of trees and fences. The landscape created through the years has become an integral part of what we love about the peace and tranquility of the rural countryside. We believe this is why many of us dream of building a home in the country, surrounded by the fields, the woods, and nature. When designing Saddlehorn, we thought it was important to capture the essence of the rural countryside while providing the comfort, convenience, and safety of a neighborhood setting.

To accomplish this, large home sites, starting at about two-thirds of an acre, are designed around rolling horse pastures surrounded by traditional white fencing. An extensive trail system winds around the fields, along a wooded creek, past the old live stock corral, and by the Civil War era cemetery.
A genuine neighborhood, you have friends and neighbors, babysitters, soccer and Little League teammates nearby. Saddlehorn seamlessly blends the best of both rural and neighborhood living.